Minal Khan, Aiman Khan, Srwat Gilani announces legal action against Feroze
The defendants in Feroze Khan's defamation suit have demanded a public apology from the actor besides resorting to a legal action against him for leaking their personal information online.
Ever since Feroze Khan's divorce finalized, he has been in the news for one reason or another.
Earlier this week, the Hubs actor took to his Instagram account and shared a legal document stating he has filed a case against these celebrities who have bad-mouthed him during his divorce case. He later deleted the post
The document included the names, residential addresses, and contact numbers of his ex-wife, Syeda Aliza Sultan, and other renowned celebrities such as, Musaddiq Malik, Sharmeen Obaid Chinoy, Asim Azhar, Osman Khalid Butt, Mira Sethi, Minal Khan, Aiman Khan, Sarwat Gilani, Yasir Hussain, and Farhan Saeed Butt.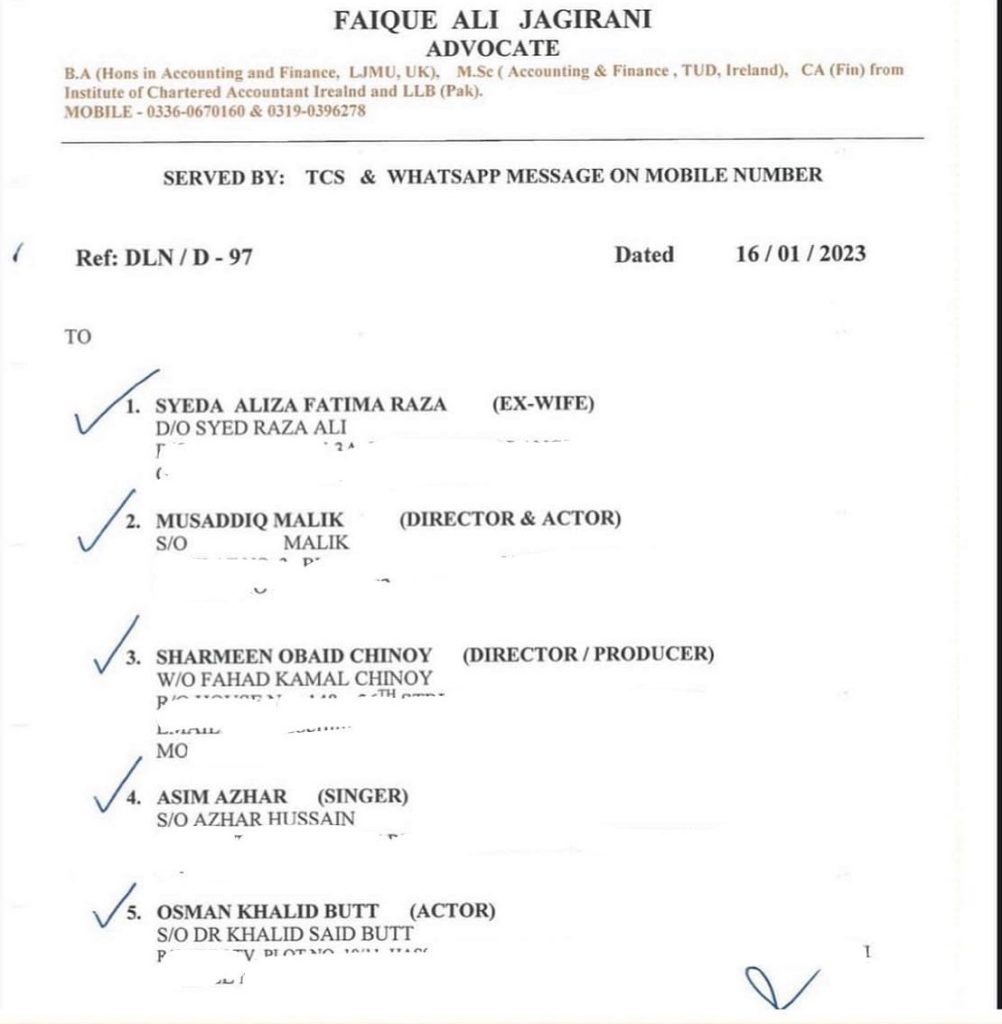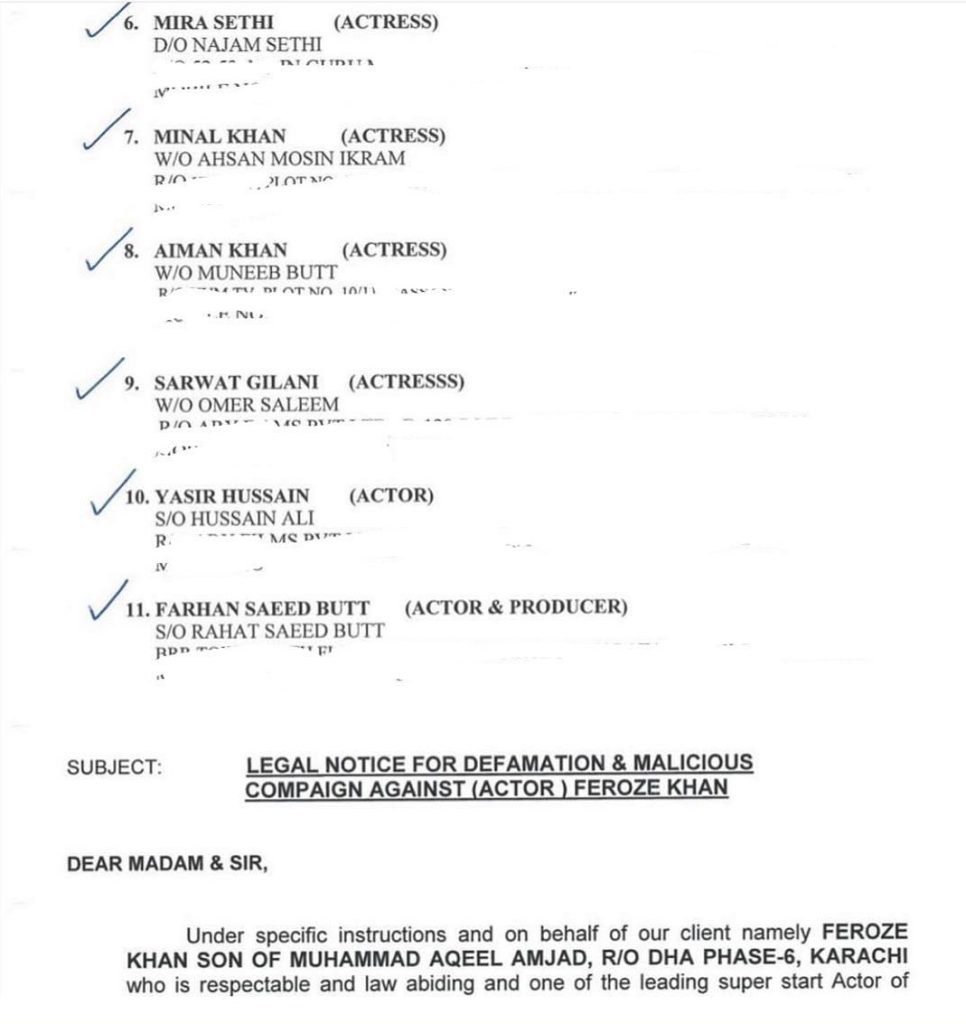 Now, the artists in the question have called out Feroze Khan on his "immaturity".
The Khaani actor has received a legal notice from Farhan Saeed, a famous Pakistani singer, requesting a public apology for the harm he has caused within three days to avoid further legal repercussions.
Yesterday, Yasir Hussain shared multiple screenshots of WhatsApp chats of unknown numbers on his Instagram stories.
In one of the stories, he shared a boy's picture with the caption that because of one "stupid" person leaking my personal information, this boy is harassing him by calling and texting him.
Sarwat Gilani too, shared a screenshot of her call log showing calls from hundreds of unknown numbers.
She tagged Feroze in her post and said that his action were not just illegal but also reflected immaturity.
She further added, "Two days ago, @ferozekhan had one ex-wife and her lawyer, now he will have to face 10 celebrities and their lawyers who stand against him."
Mira Sethi, shared Gilani's post on her Instagram story, and wrote, "Unbelievable. My lawyer will respond to the notice, and I will continue standing with Aliza Sultan."
The Oscar winning Pakistani-Canadian filmmaker, Sharmeen Obaid Chinoy, also shared screenshots of her call log with multiple calls, and wrote, "Leaking personal information including phone numbers and addresses is a criminal offense."
In another of her Instagram stories, Chinoy shared a cryptic message stating, "Twenty years of dealing with men who are perpetrators of domestic violence. I know every play in the book."
Minal Khan and Aiman Khan also shared their experiences after their information was leaked by the Khuda Aur Mohobbat 3 actor.
They shared screenshots of WhatApp messages from unknown numbers, which said that they got her number from Feroze Khan's Instagram post.
In the post, they said that they have been in "mental distress" since their personal information was "intentionally" shared on social media by Feroze Khan.
Furthermore, they said, "Such actions are illegal - This being said, I will be taking very strict legal action against Feroze khan for leaking my private information on social media along with multiple other famous individuals."
Osman Khalid Butt, shared Sarwat Gillani and Minal Khan's post on his Instagram stories and said that the past two days had been a "nightmare".
Taboola
Tabool ads will show in this div