He has demanded Rs20 million in damages from ex-wife, fellow artists
Pakistani actor, Feroze Khan, has sued his ex-wife, Aliza Sultan, and many other showbiz personalities for defaming him and leveling false allegations.
For the past few months, Feroze Khan has been making headlines. It all began with his messy divorce from Syeda Aliza Sultan which was followed by domestic abuse allegations by her.
Numerous celebrities came forward to support Aliza Sultan after the pictorial evidence of domestic violence surfaced online and condemned Feroze.
After this, Feroze shared a tweet saying that he is fighting his case in court, and called the entire scene 'a ploy to defame him'.
On Saturday, the Khaani actor shared a tweet stating, "Whoever double-crossed will be sent to jail; now the mission is to change the narrative."
Feroze Khan has now sent a legal notice to all his fellow actors who posted against him.
The actor, yesterday, on January 17, took to his Twitter again and wrote that he has sent a defamation notice to the people who leveled false and baseless allegations against him.
Feroze Khan has demanded Rs20 million in damages from his ex-wife, Syeda Aliza Sultan, and celebrities including Musaddiq Malik, Sharmeen Obaid Chinoy, Asim Azhar, Osman Khalid Butt, Mira Sethi, Minal Khan, Aiman Khan, Sarwat Gilani, Yasir Hussain, and Farhan Saeed Butt.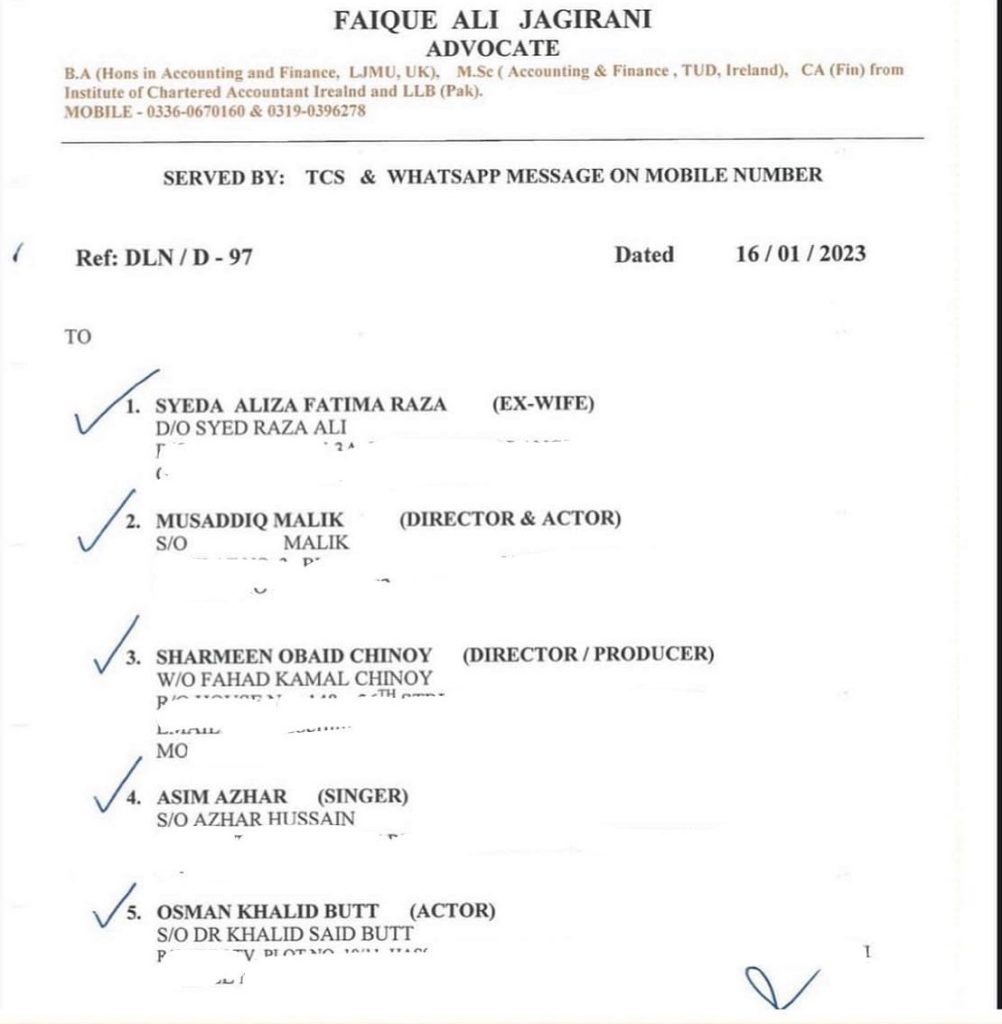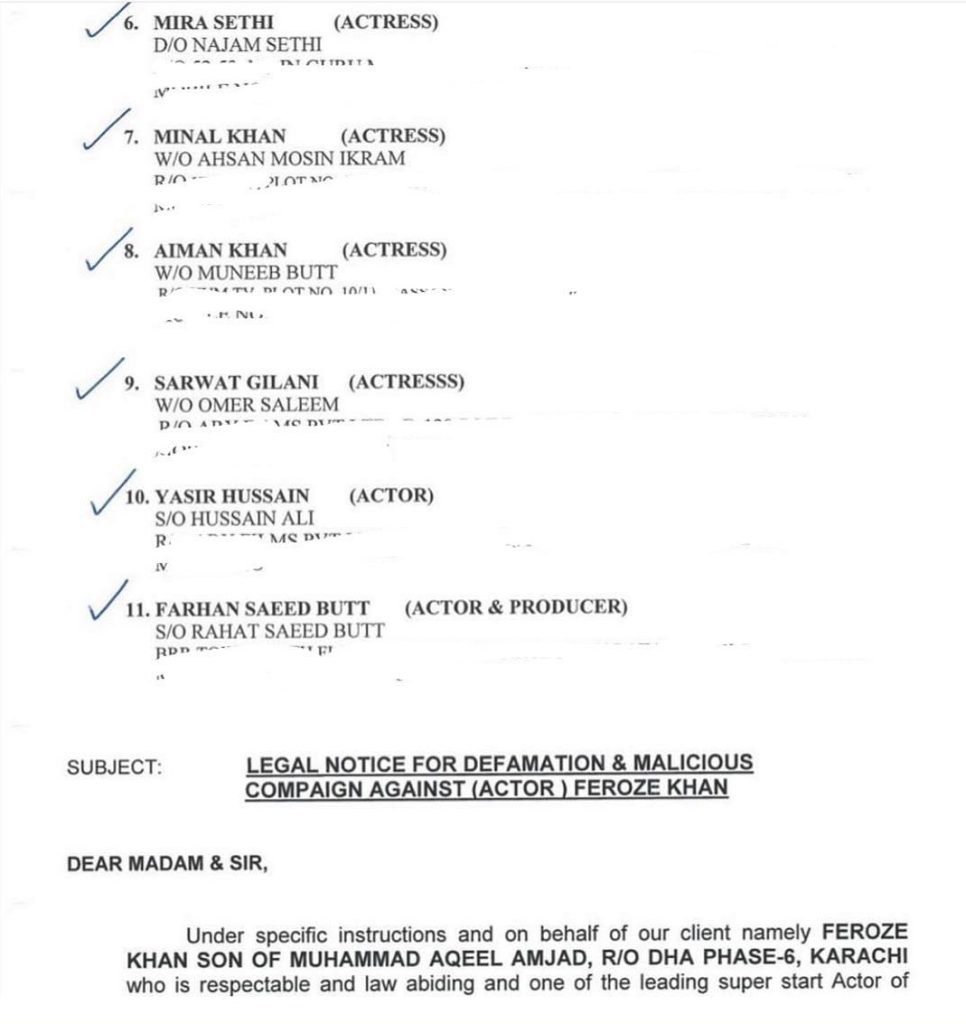 His decision to sue his fellow artists has received mixed reactions as some people supported him saying that he has exercised his right.
While others said that they are glad that these celebrities spoke against the Hubs actor.
The artists mentioned in the defamation suit list have not released any statement by now, but Yasir Hussain shared an Instagram story regarding the case.
Taking to his Instagram, he shared a picture of a boy with the caption that a stupid person first abused his wife, and then put the artists' numbers on public display.
He added that now a random person – referring to the person in the pictures – has approached him for a role in his next drama or an amount of Rs 0.1 million.
Sarwat Gilani, also shared a number of screenshots of her phone call log, stating how "immature" Feroze Khan is to publicly share personal information of famous individuals.
Apart from them, other celebrities including Meesha Shafi and Fahad Mirza called Feroze vengeful and stupid.
Fahad Mirza – Sarwat Gilani's husband – shared an Instagram story saying, "@ferozekhan is really deranged, vengeful and stupid for including the personal numbers of all these actors and then making it public. After this knee jerk response, he really has proven that he is a moron of the hugest order!"
He added that now he is absolutely certain that all the allegations made against the actor must be true.
Meesha Shafi, a famous Pakistani singer, tagged all the defendants in Feroze's defamation case and wrote on her Instagram story that they don't need to worry because the Khuda Aur Mohabbat actor 'will lose in every way in the end'.
Taboola
Tabool ads will show in this div